The Shark Conservation Fund is proud to support a comprehensive array of projects which together are building a portfolio of hope for sharks and rays centered around our three core objectives and five work streams.
Three core objectives
1. Ensuring effective regulation of global trade of sharks and ray products
Underpinning SCF's entire mission is the goal of ensuring that the global trade in shark and ray products is effectively regulated. As one of the world's earliest and most powerful multinational environmental agreements, CITES provides the overarching legal framework for driving trade controls in sharks and rays. Prior to the CITES meeting in 2013, when five species of sharks and all manta rays were listed under Appendix II, the international trade of shark products was essentially unregulated. The 2013 listings meant that, for the first time, countries had to prove that any catch of these species was sustainable before engaging in trade. More species were added at the 2016 meeting, however, less than 20% of the global fin trade is currently regulated by CITES. Three species of Hammerhead Sharks are now listed on Appendix II of CITES but are still top shark species in the Hong Kong fin trade. There is much more work to be done. SCF supports efforts to list the remaining top species of sharks and rays targeted by global trade on CITES Appendices and to implement those listings.
Securing CITES listings and supporting their full implementation globally and in key countries forms the central axis of SCF's approach. The impact of these listings goes much further than just protecting the most endangered, commercially valuable species. Once a species is listed, SCF directs funding to support implementation in target regions and countries at every level. The robust regulation, monitoring and enforcement that CITES listings require will drive better fisheries management and ultimately more transparent and sustainable management for all shark and ray species.
2. Preventing the extinction of the most imperiled sharks and rays
SCF focuses on reversing the decline of the most endangered sharks and rays through protecting imperiled endemic sharks and the most endangered families of sharks. Imperiled endemics are species that are endangered or could become endangered which are only found in certain regions or countries. SCF seeks to protect imperiled endemic sharks in countries with high concentrations of those species, including Indonesia, Malaysia, Australia, Brazil, Uruguay, Argentina and South Africa.
SCF advances protections for the most endangered families of sharks and rays – primarily Sawfish, Angel Sharks, and Hammerhead Sharks – in two key ways. First, by enhancing legal protections and conservation initiatives in priority countries with high concentrations of these species, e.g., the Canary Islands and the Bahamas. Secondly, by supporting the protection of widely distributed and/or highly migratory imperiled sharks and rays through targeted actions by international fisheries and marine conservation forums.
3. Combating unsustainable shark and ray fishing globally
Sharks are targeted within directed fisheries and caught and retained as valuable bycatch in fisheries targeting other species. In many countries the health of shark and ray populations is unknown, yet they are still caught and sold for their meat and fins. Shark bycatch is significant in high seas tuna and swordfish fisheries — in some cases, they are really shark fisheries with an incidental catch of tunas and billfishes. Some species of sharks have characteristics that make them better suited to withstand fishing pressure. Since shark and ray fishing is an important source of protein and income in many countries, combating unsustainable shark fishing is vital. SCF focuses on engaging the tuna Regional Fisheries Management Organizations (tuna RFMOs), which have authority over fisheries in 91% of the world's ocean surface and oversight over some of the world's largest pelagic shark fisheries, as well as implementation of those policies at the national level in target countries, including Indonesia, Argentina, Malaysia, and Taiwan.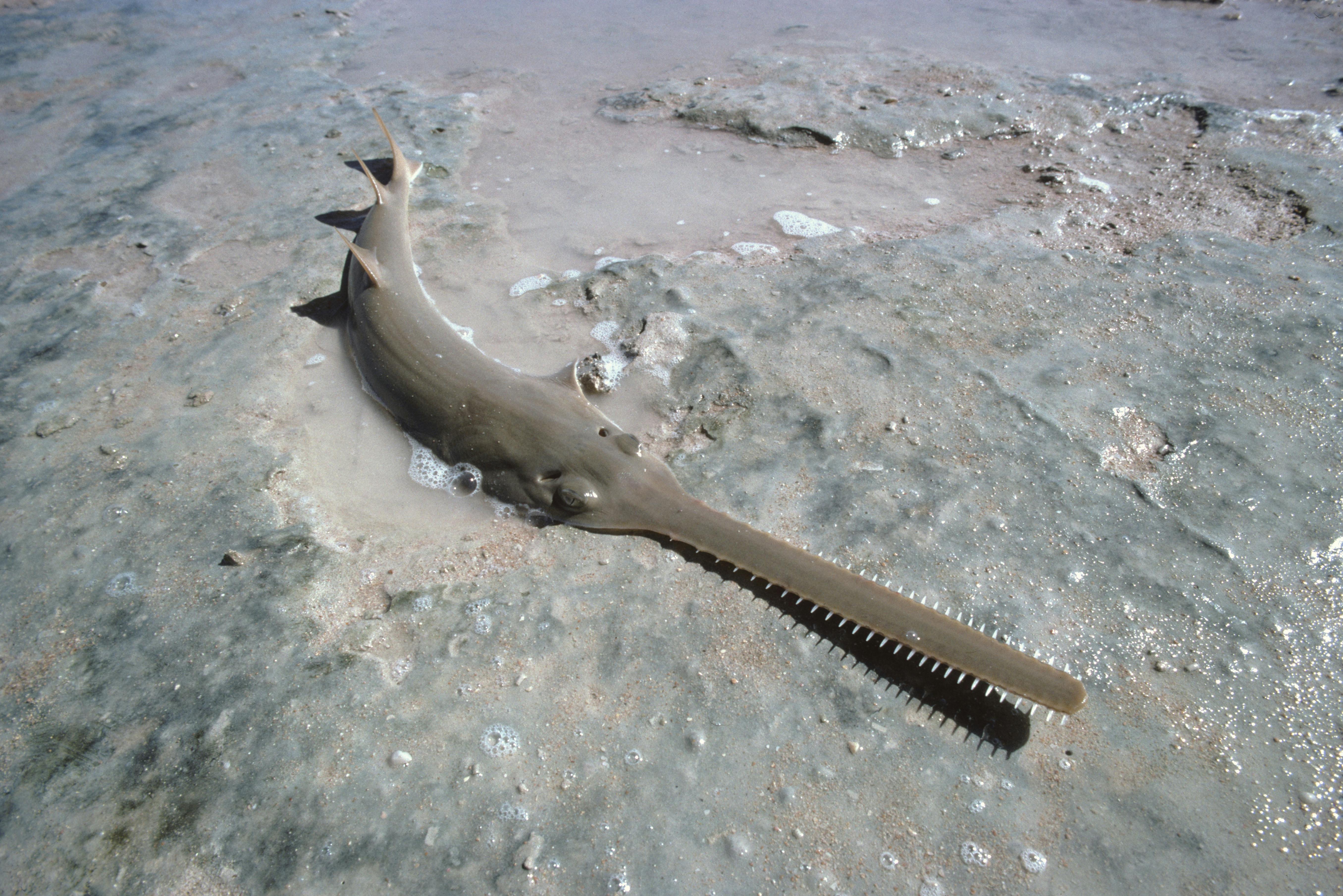 Five key work streams
Workstream I. CITES: Supporting new listings and building capacity for full implementation
As outlined above, supporting more CITES listings of the most imperiled and commercially prized shark and ray species and securing the implementation of those listings, form the backbone of the SCF mission. SCF has a comprehensive strategy to achieve these goals, and funded projects within the CITES work stream fall into two categories:
i. To support the preparation and advocating for additional listings of shark and ray species that are important in the global fin trade and that meet CITES listing criteria. SCF is supporting a global initiative to list a record 18 new species at the 2019 meeting. These listing proposals have been co-sponsored by over 60 governments.
ii. To make CITES listings work both globally and in priority countries through the training, developing of tools and guidelines, and capacity building necessary for effective implementation of listings to promote restoration of listed species through better management. Target countries include Hong Kong, Singapore, Malaysia, Indonesia, Vietnam, Taiwan, Brazil, and Uruguay, and actions include convening training workshops for fisheries, customs, and environment officials that explore how best to achieve sustainable export limits and introduce the customs checks needed to stop illegal trade.

Workstream II. Focusing on the most threatened species
SCF is determined to prevent extinctions. Focusing on imperiled endemic species and the most endangered families of sharks and rays is essential to target species that are most in need of protection. A key aspect of this work is advancing scientific knowledge about both widely distributed imperiled species (Sawfish, Angelsharks, Wedgefish, Guitarfish) and those that are endemic to a particular region or country. This includes supporting applied research designed to identify priority areas and times for protection, minimize bycatch and/or bycatch mortality, and develop products that will help policymakers site marine protected areas (MPAs) and shark sanctuaries where they will be most effective for shark and ray conservation.
This work stream encompasses projects targeting specific species and locations, such as implementing global and regional strategies targeting Angelsharks, the second most endangered family of sharks, by supporting work to enlist divers and fishers in the Canary Islands in Angelshark conservation; supporting development and implementation of the Eastern Atlantic and Mediterranean Angelshark Conservation Strategy; and restoring the Pacific Angelshark population in Peru. In addition, SCF is backing a project aimed at increasing the biological information available on severely threatened Wedgefish and Guitarfish to inform CITES assessments and conservation efforts. As an added benefit, work on species facing extinction also provides opportunities to raise public awareness of the wider challenge of declining shark and ray populations.

Workstream III. Curbing unsustainable fishing
SCF leverages the capacity of one of the most powerful tuna RFMOs, the International Commission for the Conservation of Atlantic Tuna (ICCAT), which has adopted important shark conservation measures. ICCAT will soon have legal authority to manage sharks and jurisdiction over vast areas of the Atlantic Ocean, encompassing fisheries that kill large numbers of sharks.
SCF is investing in actions aimed at ICCAT to secure the adoption of precautionary science-based catch limits for shark species and improved transparency and compliance with shark management measures. In target countries, such as Indonesia, Argentina, Malaysia, and Taiwan, SCF is also supporting the adoption of precautionary catch limits, time/area closures, gear restrictions, and fishing gear modifications to promote the restoration of threatened sharks and rays, as well as research and pilot programs designed to identify and protect pupping and nursery habitats.
Projects include:
•
• • Safeguarding Atlantic & Mediterranean Elasmobranchs Through RFMOs

Workstream IV. Advancing data and technology
Cross-cutting all SCF's work is the need for a step-change in data-gathering on species distributions and habitats to provide the science underpinning best policy. Coupled with this is the extraordinary expansion of opportunities to advance technological solutions that can be scaled up.
Two SCF-supported projects exemplify the potential of cutting-edge research and technology. The first is investigating and seeking to validate a new method for rapidly and accurately assessing the distribution of shark populations using environmental DNA (eDNA). The second is building a global life history trait database for sharks and rays to help address the knowledge gaps – especially information on maturation, reproduction, and lifespan – that are holding back science-based conservation and management.
Projects include:
• • SharkTraits – a global life history trait database for sharks and rays
• Rapid Assessment Toolkit for Sharks (RAT)

Workstream V. Monitoring trade flows and traceability
Enhancing the capacity and techniques needed to monitor trade flows is key to effectively implementing CITES listings and thus improving global shark conservation. Supporting technological advances and policy solutions to build traceability is an essential component of this work, and SCF's contribution in this field means the net is closing on illicit trade.
SCF is supporting the development and introduction of traceability systems for CITES listed sharks and rays so that their products are traceable and discernible from non-listed species in trade. One important example of this is a scoping study for improving trade controls and traceability in the globally significant trading hub of Singapore, including targeted recommendations for traceability measures to combat Illegal, Unreported and Unregulated (IUU) fishing and improve CITES implementation. Another SCF grant supports a project is to strengthen the traceability of shark and ray products in trade, and thereby to strengthen the application and enforcement of CITES and other measures to reduce IUU fisheries and overexploitation of shark and ray populations. Research to illuminate the poorly monitored transit of shark fins through the U.S. to global markets in Asia and the development of policy solutions to address this largely undocumented trade.
Projects include:
• • Sharks & Rays Conservation Initiative: Shark Fin Transit Project